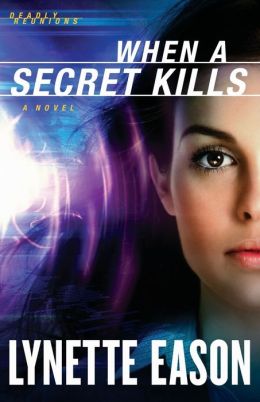 Author:
Lynette Eason
Genre:
Suspense
Series:
Deadly Reunions
Number in series:
3

rd
My rating on a 1-10 scale:
9.5
Type:
Fiction
Number of pages:
345
Time period:
Present
Publisher and price:
Revell, $14.99
Passage from book:
"Jillian hunkered down behind the desk. She'd managed to knock the old-fashioned handset off the hook onto the desk. She just prayed someone heard the shot and called the police…"
My overall opinion:
Let's just say I spent the entire book on pins and needles. The End. Nope, not enough. It was a great book! What a stunningly grand finale this one is to the Deadly Reunions series! As you may recall, I've now read six books by Lynette, with the first in this series (When the Smoke Clears) being my favorite of them all…until I read this one. Which ties with book 1. Both unbelievably good.
As readers of the first books in the series will hopefully remember, each book has its own complete suspense story, and yet through both of the first two, there's also a bit of suspense building around a central event and person…and that doesn't get cleared up until this book. It's a story in itself, but trust me – you'll be glad to know the characters and the background from the first two books, so read them all! So worth it. :)
So yes…Lynette Eason has done it again. Written yet another suspense that will keep you reading late into the night. There are few suspense books that can aspire to be this good! If you ask me about my favorite suspense authors, I have several to mention – but Lynette was the first I found, and is always the first to come to mind. The cover of this particular book is SO neat – the blue and purple and white, the brown eyes, the dark hair…all of it. According to the back of the book, it's "spine-tingling" and "nail-biting." Yup. It's true. Loved the characters (especially Colton, aka, the hero) and the story was very suspenseful as I've mentioned. Love!
*Available May 2013 at your favorite bookseller from Revell, a division of Baker Publishing Group.*
**Revell sent me a copy of this book in return for my honest review. I wasn't required to review it positively, nor was I recompensed for this review in any way other than the book. I really did love it. :) **