My rating on a 1-10 scale: 8.5
Main characters: Ivanhoe, Rowena, Rebecca, Brian Du Bois-Guilbert
Genre: Adventure, historical fiction movie. :)
Primary actors: Steven Waddington, Ralph Brown, Susan Lynch, Victoria Smurfit (yes, that's really her last name)
Length: 4 1/2 hours!
Based on: Ivanhoe by Sir Walter Scott
Time period: 1100's
Exciting events: Many!
Year it came out: 1997
My overall opinion: I enjoyed this movie a lot! What I did was read the book (or at least attempt to), then watch the movie. I think that's a good way...the book is a hard one to read. The movie is helpful to understanding it. This version follows the book quite closely. I recommend it!
Rowena.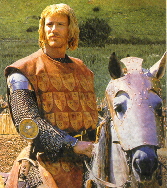 I know the above is a terrible picture...I'm sorry. But it's hard to find pictures.
Rebecca. Like I said...hard to find good ones. :(