***special note below***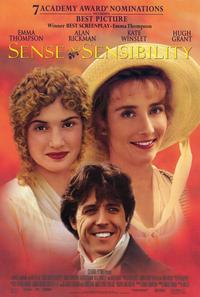 My rating on a 1-10 scale: 8.5
Main characters: Elinor, Marianne, Willoughby, Colonel Brandon, Edward
Genre: Romance
Primary actors: Emma Thompson, Kate Winslet, Hugh Grant, Alan Rickman
Length: Slightly over 2 hours
Based on: Sense and Sensibility by Jane Austen
Time period: 1800's
Quote(s): My heart is, and always will be, yours.
Year it came out: 1995
My overall opinion: I like this one! Now, it's true that I have not yet seen any other editions. But it would take a lot for me to like another better. :) One problem here: the men are all rather ugly IMHO. :P Oh, but I really enjoyed Elinor's proposal scene this time. :)
****For those of you who already saw and commented on my other post...that one disappeared. Blogger had a problem and deleted it...along with all the ones from the same time in other blogs. I will copy in your comments, since I still have them in my inbox...if that doesn't make sense, scroll down. :) Thank you for your patience!