Welcome to the kick-off of my birthday party! Today, Wanda Brunstetter agreed to visit my blog, and do an interview. And keep reading...there's a giveaway at the bottom! Oh, but before you start this...make sure you read my review of
The Healing
and my other reviews of
Wanda's books
.
Welcome, Wanda! God has really been moving in your writing life. What do you see on the horizon?
That's hard to say. I try to focus on the "now" and try to shape and make the most of it. That will help determine what will happen in the future.
Please tell us a little about your family.
My husband and I have two grown children who are both married and each have three children of their own. All of our six grandchildren are teenagers, and we enjoy spending time with our family whenever we can.
Has your writing changed your reading habits? If so, how?
I don't read quite as many novels by other authors as I used to, because I'm kept busy writing my own, but I do still enjoy reading a good novel whenever I can.
What are you working on right now?
I'm working on an Amish-themed children's book, as well as Book 3 in my Amish-themed Kentucky Brothers series.
Oh, I can hardly wait to read book 3! What outside interests do you have?
I'm a professional ventriloquist, and enjoy using one of my puppets whenever I'm asked to speak at Amish or English schools. I also like to spend time in the garden, and I love to bird-watch and take lots of pictures of anything that strikes my interest.
Mmm, yes, I love photography too.

J

How do you choose your settings for each book?
Whenever I visit a new area, a feeling will often come over me that this is a place where I should set a new book or series. Sometimes it's because of something I see or hear, but often it's just a "feeling" or "need."
Which of your books has your favorite story? Cover?
My favorite book is "The Storekeeper's Daughter," and my favorite cover is "Lydia's Charm."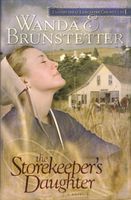 I remember really enjoying "The Storekeeper's Daughter." :) I know you enjoy reading…who are some of your favorite authors?
I enjoy novels by Nicolas Sparks, whom I had the chance to meet this past spring, and I also enjoy reading Janette Oke's books. I met her a few years ago.
If you could spend an evening with one historical person, who would it be and why?
It would probably be an Amish person who lived during the time that the Amish first came to America in the 1700s. I think it would be interesting to hear what they went through in making the journey by boat to seek a new life in a new country.
What is the one thing you wish you had known before you started writing novels?
Although I love what I'm doing, I wish I'd been better prepared for how much it would dominate my life, and known in advance what some of the expectations would be. I spend a good deal of my time either writing or researching, and must remind make myself to take breaks so I can spend time with friends and family. I have come to realize that in order to enjoy my career, I must know how to balance work with pleasure.
What new lessons is the Lord teaching you right now?
To take one day at a time and seek guidance from Him.
What are the three best things you can tell other authors to do to be successful?
1.
Write what you know, and know it well.
2.
Study your craft and learn all you can about all aspects of writing.
3.
Be patient and never give up. If the Lord called you to write, then it will happen in His time.
"The Healing" is book 3 in my Kentucky Brothers series. Single father Samuel Fisher of Lancaster County is still grieving over his wife's untimely death when his brother Titus talks him into making a fresh start. Samuel packs up his four kids and heads for the Bluegrass Country. Esther Beiler, who helps watch Samuel's offspring, develops a crush on the widower and a true affection for his children. Can she ever replace his wife, or will that role go to Bonnie Taylor, an English Innkeeper who provides work and witty conversation for the stressed widower? Can an Amish man burdened by yesterday's memories find hope in Kentucky, the land of tomorrow?
Please give us the first page of the book.
"Alles is fix un faddich."
Bishop Jacob Weaver clasped Samuel Fisher's shoulder and gave it a squeeze.
Samuel, who stood on his front porch with a few others from his community, gripped the railing so tightly his fingers ached. The last few days, and even now, he'd felt as if he was walking through a thick fog, barely able to hear what anyone said to him. Yet, right now, the truth of the bishop's words, that all was completely done, slammed into Samuel with the force of a tornado. So overcome with emotion, he could barely manage a brief nod. They had just returned from the cemetery, where they'd buried Elsie, his wife of ten years. He wasn't even sure how he'd made it through the last couple of days, much less the funeral and graveside service, but frankly, he was too tired and too numb to care. Somehow, he was now expected to carry on without her, and that thought was overwhelming.
Thank you so much for coming, Wanda! How can readers find you on the Internet?
Back to me.

J
Guess what? Wanda's offering a copy of
The Healing
to one lucky giveaway winner! You must live in the United States. And you must follow Austenitis. You don't have to leave your email, though.
+3 entries for blogging about this giveaway! Leave a link so I can check it out!
+ 1 entry for putting up the button!
+1 if you've read any of Wanda Brunstetter's books. If so, leave a comment and tell me which one!
Okay, you can start commenting! Giveaway ends on November 23, 2011.