I had so many entries in each of these giveaways! The authors and I are grateful. :) Now, without further ado, let's announce the winners!
The winner of Wanda Brunstetter's book,
The Healing
is...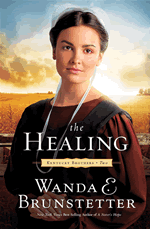 The winner of Margaret Brownley's book,
A Vision of Lucy
is...
The winner of Sharlene MacLaren's book, Livvie's Song is...

The winner of Penny Zeller's book,
Hailee
is...
Okay. Jennifer, I need you to leave me your email address. Miss Laurie, Melody, and Larkin, I have yours already and will send them to the authors tomorrow! A HUGE congratulations to each and every one of you! All four of these are books that I'm totally in love with. :) I hope that you enjoy them a ton!
Those of you who didn't win yet...take heart. I have multiple author interviews and giveaways in the works, coming up soon! Keep an eye out...and good luck then!