Well, everyone, here it is: the official announcement. Austenitis has a Facebook! In fact, it has for several weeks now, and 34 of you have already gone and liked it (many thanks -- y'all are awesome!). Now, there are a couple things I want to mention before giving you the big link.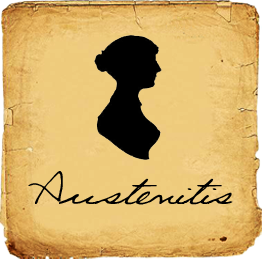 1. When it reaches 51 likes (50 people other than me), I'll be giving away a book. Not entirely sure which one, but possible
The Dilemma of Charlotte Farrow
or
Unbreakable.
This giveaway will be for Facebook followers/likers only.
2. What will you find there? The condensed, highlighted, and enhanced version of this blog. I link to reviews, both book and movie (and probably music). I ask questions (anyone know anything about a new version of
Scarlet Pimpernel
?). I occasionally talk about giveaways. I may talk about things related to period dramas, favorite books, upcoming soundtracks (yay for the Deluxe version of the Les Mis one!), and, among other things, I post pictures that Austenitis loves but doesn't want to post on the blog. And speaking of pictures...
3. I've created albums containing (thus far) pictures from Les Miserables and Hobbit! I'm also working on getting all my Doubles pictures into albums there as well.
4. Austenitis' Facebook will also be the place to keep up most with what's upcoming on the blog. It's kind of a less formal, more friendly version. Not to say this blog isn't friendly...oh dear. I'm digging a hole for myself. But understand what I mean? Oh good.
So, want this best Austenitis experience? Here's your link to go and like the page! Feel free to poke around first and make sure you want to. :) See you there!