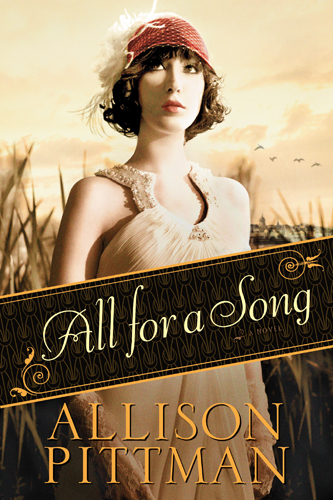 Author:
Allison Pittman
Genre:
Life, adventure, growing up
My rating on a 1-10 scale:
8.5 high
Type:
Historical fiction
Number of pages:
357
Time period:
1920s
Passage from book: Go here to read about it on Goodreads.
My overall opinion:
Over a year ago, I read For Time and Eternity and Forsaking All Others by Allison Pittman. I didn't love them, but they were okay for a one-time read. But when I saw this book come up for review on Tyndale, I decided I would give Allison another try – the 1920s are a fascinating time-period, and the cover was most interesting. So I requested it…and wow. I was very happy after that. This book caught me much more – possibly because I found the subject and the time period much more interesting. So much happened in the 1920s! This one is the story of a young country girl who is swept up in the sometimes erroneous revival movement that filled America. Through it, Dorothy Lynn is challenged about both her faith and her lifestyle. I loved reading about the 1920s (my most recent obsession), enjoyed learning everything there was to learn from this book (Aimee Semple McPherson – fascinating), and found Dorothy Lynn a good heroine. On a side note…apparently the author did a great job describing Aimee, a real historical person, because she looks JUST like I pictured her when I read about her. I will plan to read more by Allison Pittman!
**Tyndale Publishers supplied me with this book in exchange for my honest review. I was not required to post a positive review, nor was I paid in any way other than the book.**