To me, one of the most Christmasy parts of Christmas in the music. Some of them I've been listening to for as long as I can remember. Others were just discovered last year...and some, I haven't heard yet. They're on my wish-list. I'm sure that each of you also has favorite Christmas music, and I'd love to hear which of these you've enjoyed! And of course, please recommend some.
J
Now, here comes a list of my favorites!
Andrea Bocelli's My Christmas
Andrea Bocelli is amazing. He is quite operatic, and for these Christmas songs, that's just splendid. I know that some of the songs on this CD have music videos online. I'm specifically thinking of "Santa Claus is Coming to Town." So if you like this CD, you'll want to check those out.
Favorite song(s): Santa Claus is Coming to Town, I Believe (with Katherine Jenkins!), Angels We Have Heard on High
Susan Boyle's The Gift
I don't think this is strictly a Christmas CD...I'd guess that about half of Susan's songs on here are Christmas ones. But if you enjoy Susan Boyle, you're definitely going to want this CD! The songs are peaceful...that's the best word I can think of to describe it.
J
Oh, and she has "Silent Night" on her I Dreamed a Dream CD. But this one has more Christmas songs. Oh, I think I reviewed this CD on here.
Favorite song(s): Perfect Day, Hallelujah (neither of those is real Christmasy though), O Holy Night, The First Noel
Jim Brickman's The Hymns and Carols of Christmas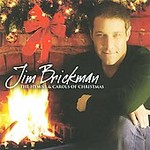 This one's not a singing CD, but expert piano-playing. All of the songs are beautiful...with the possible exception of the last one, on which Jim sings. :P I think his piano playing is much better. Anyway, this is a wonderful CD, especially good for background music.
Faith Hill's Joy to the World
A delightful CD of Christmas music. Faith has the perfect voice for it! It's a little bit in country style. She definitely sings out!
Favorite songs: Joy to the World, Holly Jolly Christmas, Winter Wonderland
Mannheim Steamroller's CD's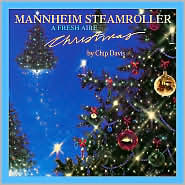 There are a lot produced by this band. And they're definitely a must for every Christmas. We've listened to them for as long as I can remember! The CD's include: Christmas Extraordinaire; Christmas in the Aire; and A Fresh Aire Christmas. They're amazing and you MUST listen to them if you haven't!
A few others that I'm not putting in here, but that are also very good include: Old Fashioned Christmas (played with instruments like dulcimers, flutes, harps, whistles, etc); Come On, Ring Those Bells by Evie (an older CD, and hard to find, but very good); Handel's Messiah (absolutely amazing -- a staple for Christmas); and What if Mozart Wrote Have Yourself a Merry Little Christmas by the Hampton String Quartet (they also did one called What if Mozart Wrote I Saw Mommy Kissing Santa Claus).
Finally, a few CD's I want.
Michael Buble's Christmas
As soon as I heard this one was coming out, I wanted it.
J
It's mostly secular songs (about Santa Claus, etc, as opposed to the classic carols), but I think it'd still be fun.
Celtic Woman's A Christmas Celebration
I do enjoy Celtic Woman a lot! I've heard their "Silent Night" but that's it. Hope to listen to this one someday! I'm sure the songs are beautiful.
Before you go...tell me your favorites!