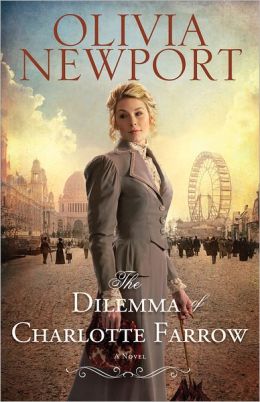 Author:
Olivia Newport
Number in series:
2

nd
My rating on a 1-10 scale:
8.5
Type:
Historical fiction
Number of pages:
316
Time period:
1800s (around 1893)
Book blurb excerpted from Goodreads.com :
Charlotte Farrow, maid in the wealthy Banning household on Chicago's opulent Prairie Avenue, has kept her baby boy a secret from her employers for nearly a year. But when the woman who has been caring for her son abruptly returns him, Charlotte must decide whether to come clean and face dismissal or keep her secret while the Bannings decide the child's fate. Can she face the truth of her own past and open her heart to a future of her own? Or will life's tragedies determine the future for her?
This compelling story set against the glittering backdrop of the 1893 World's Columbian Exposition captures the tension between the wealthy class and the hardworking servants who made their lives comfortable.
My overall opinion:
What a fascinating book! Set in Chicago at the same time as Chicago's World Fair (or the Columbian Exposition) in 1893, this book has the fair as a theme, though it's not really the main point. I love learning fascinating history through fascinating historical fiction books! This book had a riveting dash of suspense. If you haven't read The Pursuit of Lucy Banning, book one in the Avenue of Dreams series, don't worry – this one can be read and enjoyed as a stand-alone, which is exactly what I did. Charlotte is a delightful heroine, and Archie a touching hero in this sweet story.
On a short sidenote...I've heard multiple people say it's similar to Downton Abbey, the immensely popular TV show that just had Season 3 come out. So if you're a fan...check this book out!
Available January 2013 at your favorite bookseller from Revell, a division of Baker Publishing Group.
**Revell sent me a copy of this book for review purposes. I was recompensed for my review in no other way, and I was not obligated to give it a high rating or post positively. All opinions expressed are my own.**