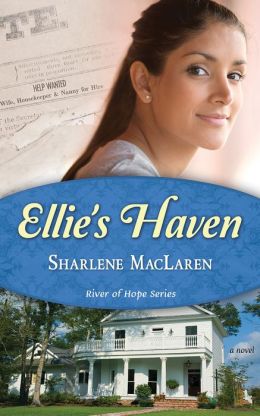 Author:
Sharlene MacLaren
Genre:
Life, adventure, romance
Series:
River of Hope
Number in series:
2

nd
My rating on a 1-10 scale:
9
Type:
Fiction
Number of pages:
416
Time period:
1920s
My overall opinion:
What a joy to return to Sharlene's writing! I so enjoyed it in the first River of Hope book, Livvie's Song. This book was also a delight! The girl on the front? She's perfect. Have I mentioned that Livvie is perfect on her book? She is. And Ellie is perfect here. The hair, the face expression, it's all exactly what is described in the book. Anyway, this book centers on something quite like a mail-order bride, only the couple knew each other even less than the average mail-ordered bride. It was an interesting concept, and certainly one that worked. This book had just a tad of humor, an exciting story, and a sweet story, all smoothly blended into one lovely book. Definitely one I'd recommend! Can't wait to read Sofia's Secret at some point.