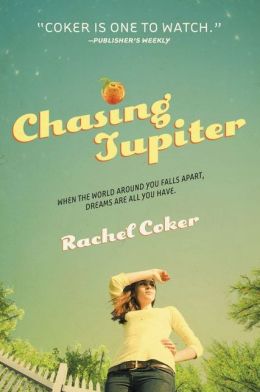 Author:
Rachel Coker
Genre:
Life, family
My rating on a 1-10 scale:
8.5
Type:
Fiction
Number of pages:
286 (hardcover)
Time period:
1960s
Publisher and price:
Zondervan, $15.99
My overall opinion:
Several things first caught me about this book. One was the author – she's a teen, in highschool, and homeschooled. Impressive, right? This is already her second book to be published! Then the time-period interested me too. The 1960s…they're almost modern, but not quite. Recent enough that relics still hang around (and no, this isn't a derogatory term for people…I'm talking about things like bar stools and records and such). But Chasing Jupiter lived up to my hopes for it, and one that truly took me back to that by-gone era! The main characters are a girl, aged 16, and her younger brother of about 10 who's mentally challenged. Rachel described both of these characters in a completely 'gettable' way, and I was especially impressed with how she handled the brother and his disability – very realistic, from my point of view. You'll be emotionally involved in this story by page 150, I guarantee it! And just when you think everything is going along smoothly and predictably and peachily (no pun intended), something stunning and unexpected occurs. And no, I won't tell you what it is. You'll have to read CJ for yourself! All in all, the writing
was great, and if you get a chance – grab this one up and give it a try!
**Zondervan supplied me with this book in exchange for my honest review. I was not required to post a positive review, nor was I paid in any way other than the book.**