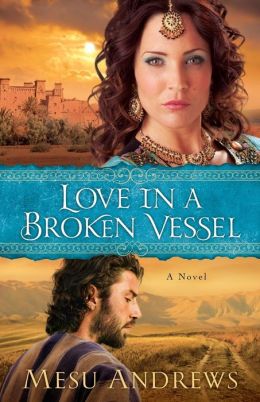 Author:
Mesu Andrews
Genre:
Life
Series:
No, but Mesu has written several Old Testament Biblical fictions, including ones about Solomon and Job.
My rating on a 1-10 scale:
9
Type:
Historical fiction
Number of pages:
442
Time period:
Bible times
Passage from book: "
Hosea has been charged by God with a difficult task--marry a prostitute in order to show God's people the nature and depth of his love for Israel. When Hosea goes to Israel to proclaim God's message, the prostitute God tells him to marry turns out to be his childhood friend Gomer. He finds her broken and abused, unwilling to trust Hosea or his God. But when marrying Hosea becomes her only choice, Gomer does what she's good at--she survives. Can Hosea's love for God and God's love for Israel heal Gomer's broken spirit?"
My overall opinion:
Yay! A new favorite Biblical fiction author for me to enjoy! She's right up there with Tessa Afshar and Jill Eileen Smith. This mesmerizing book is based on the story of the Old Testament prophet Hosea, who, as you may remember, was commanded by God to marry a harlot to illustrate Israel's relationship with God. Of course, Mesu had to include quite a bit of fiction to flesh out this book (based on a book of prophecy), but it all seemed accurate and was very well done. I was especially impressed by how many direct quotes there were from the Bible and specifically the book of Hosea. All worked neatly into the story! This book naturally deals with some tough material, but Mesu handled it very tastefully and without over much detail – though this still isn't a book for younger readers. That being said, it was an intriguing book and you won't be able to put it down! Do you like Biblical fiction? If so, definitely recommending this author and this book.
Available March 2013 at your favorite bookseller from Revell, a division of Baker Publishing Group. Or buy it through the link below. :)
Enter the giveaway to win a copy! Click here.
**Revell sent me a free copy of this book in return for my honest review. All opinions expressed here are mine and are honest. I wasn't required to post a positive review.**