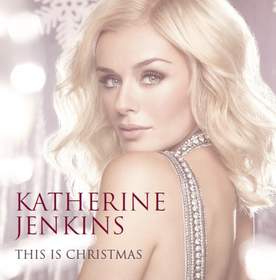 Singer: Katherine Jenkins
My rating on a 1-10 scale: 9
Type of music: Operatic (lovely!)
List of songs:
O Come, O Come Emmanuel
In Dulci Jubilo
Away in a Manger
The Christmas Song (Chesnuts)
Santa Baby
Deck the Halls
Sleep Quietly, My Jesus
I Wish You Christmas
Hark the Herald Angels Sing
Come What May (with Placido Domingo)
My overall opinion: I had high hopes when I ordered this CD, and they were not disappointed! It's beautiful and touching and perfect for Christmas. My absolute favorites would have to be "O Come, O Come Emmanuel," "The Christmas Song," and "Deck the Halls." With the first being the absolute best of them all.

I love "O Come, O Come, Emmanuel" and it may end up being my favorite song (and this my favorite singer/song) of the Christmas season! It's so beautiful that when she reached the chorus (the most amazing part) I got goose-bumps! If you don't get the CD, at least get the Mp3 of this song. As to "The Christmas Song" (Chestnuts roasting)...I just really like that song and she does a great job. And "Deck the Halls" can hardly fail to make you smile -- Katherine Jenkins really flies through it, in an articulate and crisp and dazzling manner.

Track 5, "Santa Baby," is done nicely, but I didn't enjoy it as much. I think it's because it felt out of character, especially after "O Come, O Come, Emmanuel." She does sing it very expressively -- rather cool. And Track 10, "Come What May" with Placido Domingo, didn't really strike me as Christmasy. Not that it isn't beautiful! But it is more a love song than a Christmas song. Rather operatic romance.

If you've enjoyed other Katherine Jenkins' CDs, you'll love this one! I highly recommend it. It's just over 30 minutes long, so its easy to listen to multiple times!