Naturally, I couldn't write about great musicals without mentioning this classic! It was one of the first movies that my family bought when we got a DVD playing computer…I can clearly remember the first time we watched it. I was younger then, of course...by six or seven years. Over the years, I've enjoyed watching it again and again – growing up with the kids, always keeping track of which one I'm closest to in age. Julie Andrews' beautiful voice is just that: beautiful; and her songs are unforgettable. Definitely a really classic movie.
This is another of the cornerstones of the musical world, and I was delighted to finally get to watch it last year! Despite having only seen it once, and that a while back, we are still singing the songs. My favorite? Good Morning. And All I Do is Dream of You. And Singin' in the Rain. While Brigadoon remains my favorite Gene Kelly film, this one is also good, and I recommend it!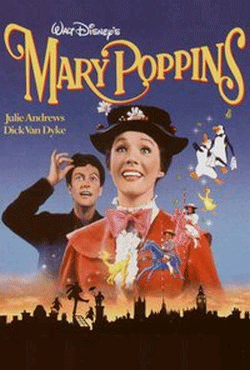 Like the others in this particular post, Mary Poppins is a musical that pretty much everyone is familiar with, and that pretty much everyone has seen multiple times. Really, my only problem with it would be that it really doesn't follow the original books! I know we all remember the songs that Julie Andrews immortalized in here though… Just a Spoonful of Sugar, Let's Go Fly a Kite, Feed the Birds, etc. Dick van Dyke stars as Bert. Fun and fantastical – one that each child is sure to enjoy!