I decided that now, during the Ultimate Book Bash Week, would be the perfect time to announce my newest feature, Cover Focus. It is quite simple: I choose a book cover that I like, and place it in a post, give you a little book blurb, link to review if I've read it, and tell you what I love about it. :) Sound fun? Good!
For my first Cover Focus post (that being this), I chose
Hailee,
a book by Penny Zeller that is coming out on September 6, I believe. I'm in the middle of it right now, and it's one awesome book!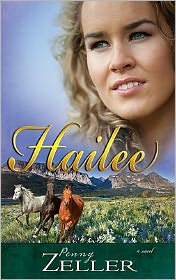 Book blurb from goodreads.com :
For years, orphan Hailee Annigan was just a ragmuffin in the Cincinnati streets, stealing food to keep her two brothers fed. Her thievery landed her in a home for delinquent youngsters, where to her life was changed, thanks to her teachers. Now, nineteen-year-old Hailee excitedly heads to Montana to be a teacher, yet she's still plagued by her shameful past and the fear of never seeing her brothers again.
Based on his upbringing in high-society Boston, no one would have guessed that Maxwell Nathaniel Adams Jr. would attend seminary and become a church pastor in rugged Montana. Even now, Nate's parents refuse to put aside their own plans for his future and accept his calling.
When their paths converge, an immediate attraction draws Hailee and Nate together, even as the pressures and demands of others pull them apart. Can the unlikely pair come to terms with their pasts and face the future together?
Told you it was good. :)
What I love about the cover:
Admit it, it's beautiful. The purple on the top half with the gold lettering is amazing. The girl model, aka Hailee, is exactly as she should look...or so I think from reading the book. I love how her hair isn't in focus, but the green eyes and face expression are. Then the horses, with mountains and prairie are also exactly what's described in the book. Or at least, exactly how I picture it. Don't you love it?
Incidentally,
Hailee
is the third book in Penny Zeller's Montana Skies trilogy.