Giveaway now closed.
And no, not all of them. :) She's written a lot of books! Maybe someday I'll do a Janette Oke Day. :) But for now, I have two of her books to give away...and they're a strange combination. Here's the deal. I have for giveaways three books:
Love Comes Softly
by Janette Oke, the first book in the Love Comes Softly... (obviously, the book is just the yellow edged part)
When Comes the Spring
also by Janette Oke, the second book in the Canadian West series...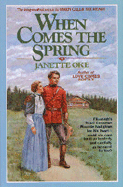 and
Silas Marner,
a classic by George Eliot
.
So what I'm going to do is say this. The winner of this giveaway can choose either one or two of these books, and I will mail them to you. Got it?
Your mandatory entry is simple:
Tell me which one (or two) you would like.
Anyone who lives in the United States may enter. You may leave your email address if you would like. 
Extra entries:
+2 - Follow this blog.
+3 - Follow my privatized photography/life blog. Write to charityu.austenite[at]gmail[dot]com for an invitation.
+1 - Name me two of your favorite authors, and which of their books you enjoy.
And that's it for this time. :)
This giveaway closes on September 2, 2011. I will announce the winner soon after.
Ready? GO!