Words Spoken True by Ann H. Gabhart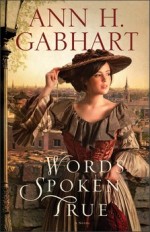 Book blurb from amazon.com : Adriane Darcy was practically raised in her father's newspaper offices. She can't imagine life without the clatter of the press and the push to be the first to write the news that matters. Their Tribune is the leading paper in Louisville in 1855. Then Blake Garrett, a brash young editor from the North with a controversial new style of reporting takes over failing competitor the Herald, and the battle for readers gets fierce. When Adriane and Blake meet at a benefit tea, their surprising mutual attraction is hard to ignore. Still, Blake is the enemy, and Adriane is engaged to the son of powerful business man who holds the keys to the Tribune's future. Blake will stop at almost nothing to get the story -- and the girl. Can he do both before it's too late?
**Words Spoken True is coming out in February 2012**
What I like about the cover: Let's start with the background. It's definitely a large city. Note the spires in the background. And then look at her dress. Kind of brown/tan and dark red, with a bodice of velvet? See the stripes that show inside her sleeve as she lifts her hand to her hat? I love her dark hair. It's obviously not done up perfectly, a few strands are loose. To me, she looks rather deep in thought. What do you think?