This week I am participating in the awesome Jane Austen Week that my friend, Miss Elizabeth Bennet, is hosting on her wonderful blog,
Elegance of Fashion
. I already told you all about this week. It's August 7-13. I'm sure you want to participate!
So, here we go on the questions that she posted for us all to answer!
1. What is your favorite thing about Jane Austen? Why?
Oh my. These are going to be hard. :) Well, I love her humor, her writing style, and her characters. Her humor is actually laugh out loud sometimes! This kind of ties in with her charcters. Elizabeth Bennet and Emma Woodhouse are both witty girls and often come out with wonderful lines! For example:
I lay it down as a general rule, Harriet, that if a woman doubts as to whether she should accept a man or not, she certainly ought to refuse him. ~Emma Woodhouse
But not only the female characters are humorous! Mr. Collins, from
Pride and Prejudice,
is a hilarious character!
Her writing style. Another thing that's just so fun! I love the words she uses and the way she expresses what her characters are thinking or doing. Take, for example, this quote from
Emma.
The other circumstance of regret related also to Jane Fairfax; and there [Emma] had no doubt. She did unfeignedly and unequivocally regret the inferiority of her own playing and singing. She did most heartily grieve over the idleness of her childhood -- and sat down and practiced vigorously an hour and a half. She was then interrupted by Harriet's coming in; and if Harriet's praise could have satisfied her, she might soon have been comforted. ~Emma
It's just delightful. :)
Finally, the characters. From Mr. Darcy and Mr. Knightley to Anne, Elizabeth, Emma, Elinor...all of Jane Austen's characters are different and unique. Each one is fun to read about.
2. What are your top three Jane Austen novels and why?
Oh. My. It's easy to come up with the first two. Definitely
Pride
and
Prejudice
and
Emma
.
Then probably,
Sense
and
Sensibility
is next. But I like the first two much better.
Pride and Prejudice
is such a classic. Who hasn't heard of Mr. Darcy? Yet, it's still a timeless story that totally deserves classic status. Every time I re-read it, or watch the 1995 adaption, I fall in love with the story again.
Emma
is different. While I don't love that she marries a man who's, what, 16 years older than her? I don't mind it either. It's not a classic romance, the kind you come across in every romance novel, but it's witty. Emma is also a different Jane Austen heroine. She's rich, spoiled, and not uncommonly smart. But you love her anyway!
Sense and Sensibility
is fun too. Elinor and Edward's romance is very sweet. Again, I usually feel that Colonel Brandon and Marianne's romance is a little weird, but I still enjoy it. Honestly, isn't he about old enough to be her dad? But it is an exciting story.
3. Who are your top three favorite Jane Austen heroines and why?
Okay. Emma Woodhouse. Elizabeth Bennet. And Elinor Dashwood. And an honorable mention, but later. :)
I love Emma because she's different. Her personality is the kind that I can't help but enjoy reading about. She has her faults, certainly, but overall she does her best to be good.
I love Elizabeth Bennet because she's Elizabeth. As
Pride and Prejudice
tells what she's feeling when, for example, Lydia elopes, I'm feeling it right along with her. Her personality is so sweet. And so is her romance.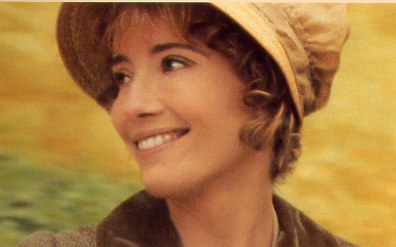 I don't love Elinor so much, but I think I may be the most like her. She's someone who takes charge of her family during a hard time, and pulls them through it. She has a strong personality, yet she's sensitive and loving. She's someone you could lean on. And she's a little bossy.
4. Who are your top three favorite Jane Austen heroes and why?
Mr. Darcy. Mr. Knightley. Edmund Bertram.
Mr. Darcy. I think I would clash with him. But when paired with Elizabeth, he works. I love that he changes from stuck-up to loving. Though I think being proud is probably a life problem for him, I believe he works to change it. And besides, Colin Firth as Darcy was SO handsome. :)
Mr. Knightley has a very sweet personality.
Emma
says that he's the only person who ever saw faults in Emma herself, and the ONLY one who ever pointed them out. While I don't like that he's so much older than her, their romance is still a timeless one. I think, personally, I would get along, both in general and if I was married to him, with Knightley than with Darcy. He's smart, but doesn't force it.
Finally, Edmund Bertram. It was hard to think of a third one. :P I'm not real fond of any of the others. He's out of
Mansfield Park.
And I couldn't find a picture I liked. That wasn't Jonny Lee Miller. Anyway, I like him because he was kind to Fanny when she was young. In general, I'd say he tried to be a good guy.
5. Any honorable mentions for 3 and 4?
Anne Elliot.
While she isn't a top favorite of mine, she was a sensible woman as she grew older. I know, you laugh, but I admire sensible women.
6. Top three Jane Austen adaptions and why?
Okay. They are
Pride and Prejudice
(1995),
Emma
(2009), and
Sense and Sensibility
(1995).
This was the first Jane Austen adaption and it remains one of my all-time favorite movies. :) Colin Firth as Mr. Darcy is perfect. He's definitely the model Mr. Darcy. Jennifer Ehle is a wonderful Elizabeth. Mr. Collins, Lady Catherine, Mr. Bingley, also all stood out to me. It's true, the dresses in this one are fairly low, unlike the 2005 P&P. However, I think this one might be more historically accurate? I'm not saying immodesty is good by any means, though. I do like the costumes and sets better in here. And the Mr. Darcy is WAY better. I am sure that the Bennet's were not the type of family to have farm animals in the house. And I'm equally sure that Mr. Darcy didn't propose in, well, a state of undress.
When I first watched Emma, the 2009 version, last October, I knew right away that I had found a new favorite film. It's about four hours long, and follows the original book quite closely. Romola Garai was just like what I had always pictured Emma herself to be. Michael Gambon was the absolute exact father that Emma is described as having in the book. And Jonny Lee Miller was an excellent, calm, peaceful Mr. Knightley. I don't know...does he look that much older than her? I love the outfits, the sets, the actors. It's the best adaption of Emma that I've seen.
This one certainly isn't as much a favorite of mine as the first two are. But it's an excellent adaption of Sense and Sensibility. Emma Thompson, who acts as Elinor, actually wrote the screenplay! Overall, it's fairly good about following the book. I haven't yet seen the 2008 S&S, but I've heard that it's mostly good...
Extra honorable mention: Okay, I wasn't supposed to do this. :) But I need to add that the 1995 Persuasion wasn't bad either. :)
And now, because this post has gotten unbelievably long, I'm going to save the remaining questions for another post, another day. :) Check back for them later this week!